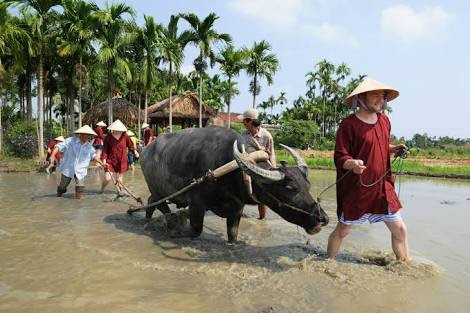 Departure Time: 8:00 am or 1:00 pm
Duration: 6 hours
Transport: bicycle and ECO boat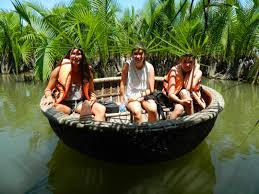 Tour Program
You will be picked up at hotel by a mini-van and then you will be transferred to ECO bike station in the countryside to start your biking route.
Cycle to a local farming village, traveling along picturesque country roads.
Share in the daily work life of local farmers – hoeing the soil, watering veggies at an organic herb garden, riding water buffalo in the field and enjoying the fresh air of the countryside.
Board the boat and cruise to the mouth of the small river where it meets the Thu Bon River.
Learn and try your hand at local traditional fishing techniques, casting nets from round boats.
Learn to paddle the strange and unique Vietnamese bamboo basket boats.
Explore the now tranquil coconut-palm flanked waterways of a past warzone and hear of the extreme conditions endured by soldiers on both sides.
Back on-board our ECO boat, enjoy lunch/dinner (morning time you will get lunch and afternoon time you will get dinner on boat) and soft drinks.
Return to hotel by ECO mini-van.
Price: $40 USD – minimum 2 people.